SHIPPING
~GENERAL SHIPPING~
US Domestic and International shipping is available. All orders will be shipped within 7-14 BUSINESS DAYS of receiving payment. Some packages ship the same day; we send it as quickly as we can so you don't have to wait to receive your purchase.
~DOMESTIC ORDERS~
All Lobe' Dangle accessories are shipped USPS First-Class Mail. All packages come with a tracking number which will be provided after the item is shipped and the customer can easily track the order online as well as insurance. Delivery time depends on the location: Normally 2-7 days after the item is shipped. All domestic items are carefully packaged.
~INTERNATIONAL ORDERS~
If you require shipping outside of the USA we ship Lobe' Dangle Accessories
First-Class Mail International. Delivery time depends on the location.
If you reside outside of the USA, you are responsible for knowing your country's import laws and are responsible for any associated duties or taxes due as a result of your purchase. Any custom fees or duty taxes are the responsibility of the buyer; and, as such, the aforementioned fees and taxes will be not refunded or reimbursed by the seller. In rare circumstances, customs or immigration do seize items and/or may cause a long delay in delivery times.
~PACKAGING~
All of our accessories come carefully packaged along with a Certificate of Authenticity signed and dated by designer Qwishuna Smith.
~DAMAGED ITEMS~
We package every item with extreme care. Lobe' Dangle is not responsible for any lost, delayed or damaged shipments, although we will certainly do the everything possible to resolve the situation. Please contact us right away if your item should inadvertently arrive damaged so that we may assist you with filing a claim. You may email us directly with the contact information included with each order. Please also keep all packaging materials in order to file a claim with the US Post Office.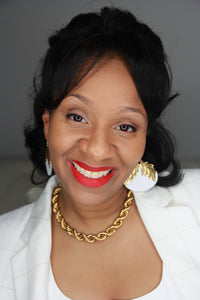 Meet The Designer
Qwishuna Smith
Born and raised in Baltimore, Maryland, Qwishuna releases a touch of her urban background, as well as facets of Eastern culture and the Victorian era, throughout her Lobe Dangle line. 
Fed up with the trendiness of modern-day accessories, Qwishuna was determined to create an accessory line, using her great knack for attention and detail that crosses fashion boundaries for those who don't care to fit in. She DARED to evolve accessories as we know it, colliding the worlds of leather, accessories, and sometimes metals. 
With a spirit of excellence and a commitment to her craft, Qwishuna ensures that each Lobe Dangle piece speaks volumes to its wearer, daring them to step outside the box!
As a designer who's very attentive to detail, it is consistently my goal to create a body of work that is not only original, but one that is flawlessly made with fine craftsmanship. Overall, it is my desire that this inspired collection will be cherished by its carriers, and worn with dignity and honor.